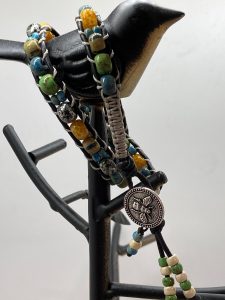 Since the holes of our chunky aged picasso beads are large they work up easily into ladder bracelets and the strands are multicolored so you can still mix up your colors without buying multiple strands. We used a half strand and still had 20 beads left and the best part is that no needle was needed!   We like to stack the faceted 6/0's to add  interest and you can add cute accents by adding macrame at the end of the bracelet and wire wrapped baubles.  There are endless combinations with all the chunky bohemian aged picasso beads.
Don't forget to add 6/0 Toho beads on the leather fringe!  (Nice big holes that fit 1.5mm leather!)
If you need a ladder tutorial, you can find it here. 
**Anytime you see a "read more" there is selection to make, usually a finish or color!