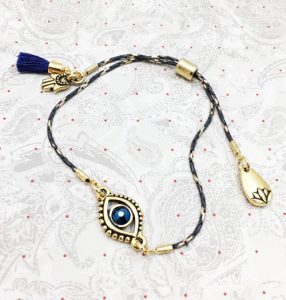 One of our most fun mini-workshops lately!  We used the new Tierracast® evil eye link and our new slider clasp with the two-tone brass chain.  A fun and easy project for beginner's and experienced alike.  Choose different colors of chain and finish off the bracelet with some cute charms and tassels.
Click on the Read More buttons below to select the colors or finishes you prefer.
Purchase the below products and receive our instruction hand-out at no charge.  Be sure to add it to your cart.
Thumbnail
Name
Quantity
Price
Add to Cart Button
Global Add to Cart Checkbox
Small Designer Tassel - Gold Plate
Read more
Instructions for Seeing is Believing Bracelet

$

0.00
Read more
Evil Eye Link - Metallic Blue
Read more
7 x 5 mm Slider Clasp
Read more
Beading Chain - 1.25mm Two-Tone
Read more
4mm Jump Ring - Gold Plated

$

1.79
Read more
1mm Crimp End
Read more